Important Dates
Graduation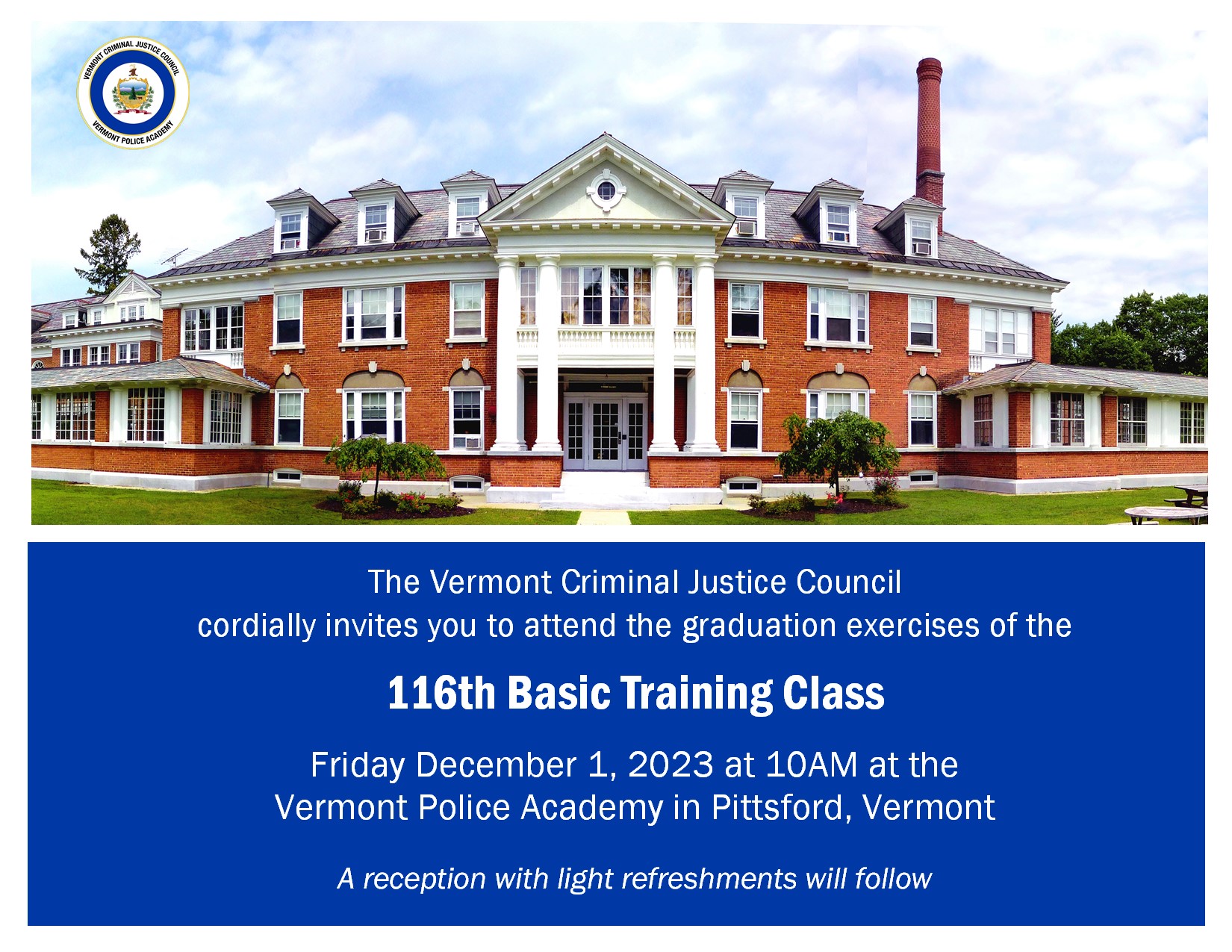 Rules Public Hearing
Hearings are scheduled to offer the public an opportunity to discuss rule changes. Hearings will be offered remotely and in-person 11/28/23, 12/4/2023, and 12/12/2023. Visit our Council Rules page for further information.
DRE Informational & Recruitment Session
There will be a DRE informational & recruitment session held on Wednesday, December 6, 2023 from 0900-1200 at Vermont Technical College (Langevin House) located at 1 Main St, Randolph Center, VT  05061. Any potential applicants will learn more about the training expectations and hear from both instructors and practitioners in the field.
The agenda is available HERE.
 Coffee and light refreshments will be provided. Pre-registration is NOT required.
Annual Training Requirements for agencies are due March 1, 2024 for training obtained from January 1, 2023-December 31, 2023. All waivers for training needed outside of 2023 need to be submitted by December 31, 2023. Each agency has until March 1, 2024 to submit the 2023 annual training affidavit. See more information here: Annual Training Requirements for Certification (Rule 13) | Criminal Justice Council (vermont.gov)
Annual Training Requirements Summary
117th Basic Recruit Class Information
Paperwork Deadline:   Friday, December 8, 2023
Fitness Testing Dates: Wednesday, December 20, 2023 at 0830
                                    Wednesday, January 3, 2024 at 0830
                                    Wednesday, January 10, 2024 at 0830
Orientation:                 Friday, January 12, 2024 at 0830
Day One:                    Monday, February 5, 2024, at 0800