Supplimental materials for 2018 domestic violence training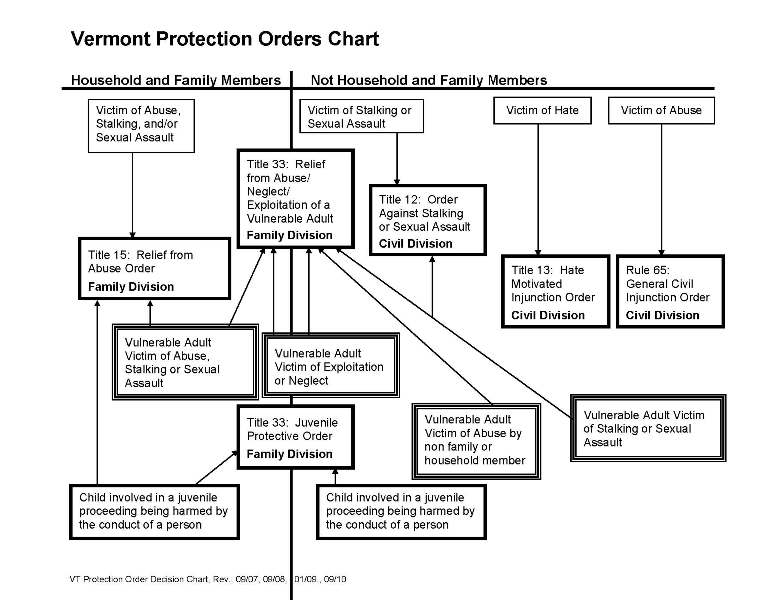 Forms:
Model Protocols:
Links:
VERMONT DOMESTIC VIOLENCE RELATED DATA
(Information listed below is taken from the State of Vermont Domestic Violence Fatality Review Report 2012, unless otherwise noted. This report can also be located on the Vermont Attorney General's Website.)
 According to the Vermont Violent Crime Index 2010:

83% of the violent crime cases involve intimate partners, family members, or acquaintances.

65% of violent crime in Vermont occurred in the residences.

In 2011, The Vermont Department of Health surveyed 22,723 students (grades 9 to 12) in 66 high schools for their

Youth Risk Behavior Survey

. Below are their findings:

Seven (7) percent of high school students reported that they were hit, slapped, or physically hurt by a boyfriend or girlfriend.

Six (6) percent of students reported being physically forced to have sexual intercourse when they did not want to, and girls were twice as likely as boys to be victims of this type of sexual violence.

Fourteen (14) percent of Vermont adults (18 years of age and older) reported that an intimate partner hit, slapped, pushed, kicked, or physically hurt them in any way.

Twelve (12) percent reported that an intimate partner threatened them or made them feel unsafe in some way.

Fifteen (15) percent said an intimate partner tried to control their daily activities.

According to the Vermont Department of Corrections (DOC) the following statistics represented a snapshot of the DOC Population as of June 30, 2011*

1,338 persons were under the supervision of Corrections for domestic violence related offenses.

338 were incarcerated

677 were on probation

76 were on parole

247 were on furlough status.

Approximately 22% of incarcerated persons were incarcerated for a domestic violence related offense.

Approximately 14% of offenders under community supervision were under supervision for a domestic violence related offense.
*Importantly, these numbers only reflect persons for whom the designated domestic violence offense is the most serious offense. The Department cautions that there are domestic violence offenders with other charges which are deemed more serious by Corrections for classification purposes (e.g. sexual assault, kidnapping, homicide). Thus, the numbers given here are somewhat lower than the actual numbers.
During 2011, the fifteen Member Programs of the Vermont Network Against Domestic and Sexual Violence (the Network) reported:

Received and responded to 10,250 hotline and crisis calls.

747 survivors were housed in shelters and safe homes statewide.

69 people were turned away in 2011 because of lack of room at shelters.

7,313 victims of domestic violence and 1,025 victims of sexual violence reached out to the Member Programs of the Network over the course of the year

354 children were housed in Network shelters or safe homes.

1,212 children received services other than shelter, and Network Programs served two hundred fifty eight (258) child victims of sexual violence.

During 2011, the Vermont Department for Children and Families (DCF), Family Services Division reported:

Receiving 2,206 intake calls that identified co-occurring domestic violence and child maltreatment.

725 of these intakes were accepted and opened for assessments or investigations resulting in 84 substantiations of child maltreatment.

According to the Office of Court Administrator, from July of 2010 through June of 2011 the following domestic violence charges were filed in the Criminal Division of Superior Court (see graphs below for county statistics):

13% of felony criminal cases were domestic violence charges.

Sentencing:

62% of the defendants received incarcerative sentences
20% of the defendants received a split sentence of incarceration and probation
11% received straight probation
6% resulted in a deferred sentence
1% were identified as unknown.

6.5% of non-felony cases were domestic violence charges.

Sentencing:

42% of the defendants received probation

24% of the charges were resolved with deferred sentences

19% received straight incarceration sentences

13% received a split sentence with incarceration followed by probation

2% resolved with a fine.

From 7/10 – 6/11, 62% of the defendants convicted of felony domestic assault received prison sentences.
According to the Office of Court Administrator, from July of 2010 through June of 2011 the following statistics are in reference to relief from abuse orders (Title 15 Protection Orders):

3,688 petitions for relief were filed.
1,247 final orders were granted.
1,644 temporary orders were issued without a final order.
794 matters resulted in no order.
12 cases were transferred to another court.
Of the 3,688 petitions for relief from abuse and exploitation filed last year, 34% resulted in a final order issued by Vermont Courts.
As of January 2012, every Vermont county has a certified batterer intervention program.

The 2011 enrollment data for the Vermont Coalition of Batterer Intervention Services (VCBIS) indicates that there were 438 new participants in 2011 and 216 who completed the batterer intervention programming.